Isn't he just beautiful? And Yahweh did it all FOR US? That comes pretty close, I imagine, to the sort of thing that Israelites must have said when they saw Aaron dressed for work. It showed they were clued-in to the message Moses intended:
1 Then bring near to you Aaron your brother, and his sons with him, from among the people of Israel, to serve me as priests-- Aaron and Aaron's sons, Nadab and Abihu, Eleazar and Ithamar. 2 And you shall make holy garments for Aaron your brother, for glory and for beauty. 3 You shall speak to all the skillful, whom I have filled with a spirit of skill, that they make Aaron's garments to consecrate him for my priesthood - Exodus 28:1-3
Glorious Garments
His garments were colourful, costly, bejewelled and dazzlingly bright: they set the Old Testament Church-High-Priest apart from everybody else - most-skilfully embroidered robes lovingly and artistically manufactured by those God specially gifted for the task. Finest white linen; blue, purple and scarlet cloth; all interwoven with eye-wateringly expensive gold thread.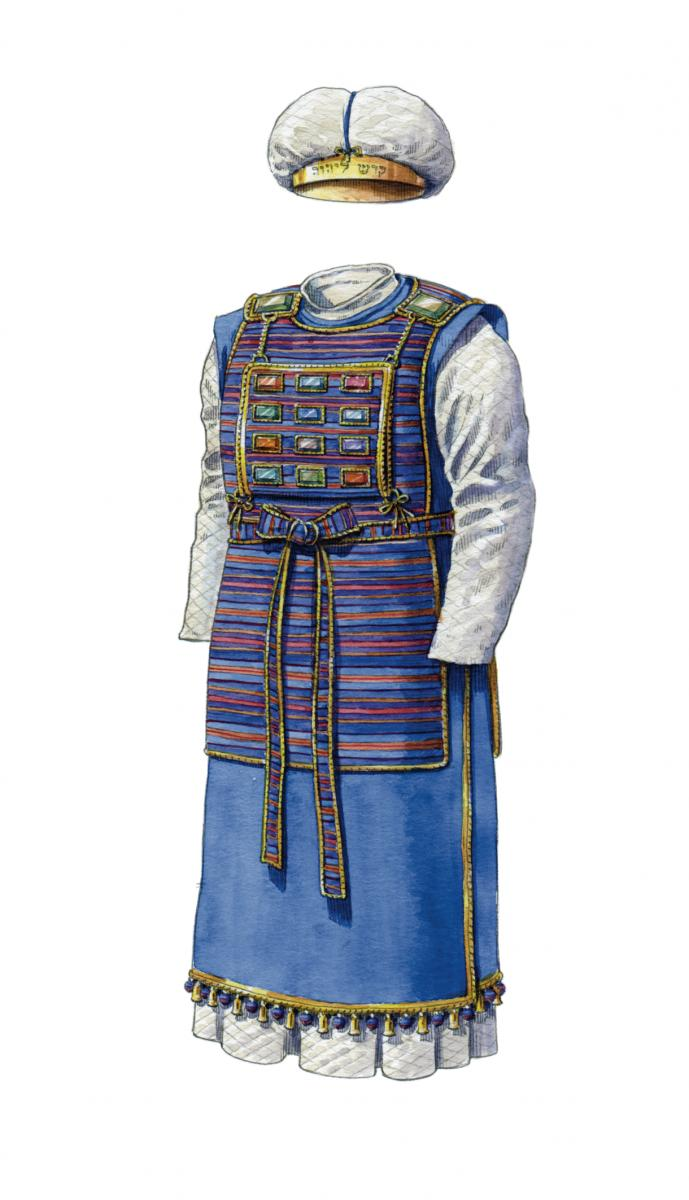 Multi-Layered Splendor
The 1st layer was the white priestly undergarment.
The 2nd layer was the blue robe of the Ephod: it had a reinforced, tear-free, tight-knit, neck rim and lower hem arrangement of alternating bells and pomegranates - like the old shop door bell that let merchants know that a customer had entered the premises, this tinkling design kept Aaron alive when he intruded behind the veil into the Shekinah presence of God.
The 3rd layer was the Ephod in blue, purple and worm-of-scarlet woven cloth with additional golden needle work - all supplied, again, at great expense. Two shoulder pieces contained onyx stones, in which shimmering lampstand light refracted and represented Israel's engraved names around the Tent.
The 4th layer was was the Breastpiece of Judgment - a doubled-over pouch or bag bedecked with twelve tribal precious jewels and holding Urim and Thummim stones by which God gave decisions: this provided needed guidance for all His chosen flock. And just in case you forget, two of the brothers Simeon and Levi, were wild murderous men; Reuben, the firstborn, engaged in a lewd, shameful, act with another family member; all of the brothers, Benjamin excepted, ganged up on dreamy Joseph, snapped at him incessantly, envied him intensely, sold him as a slave and lied to Father Jacob about his beloved's whereabouts - the end result of this deceitful plot was to cast this bereft parent into a tearful abyss of lifelong grief. That any one of the names of the twelve patriarchal sons was engraved into a costly jewel laid on High Priest Aaron's breast is stunning, divine, love - it was, beyond doubt, an act of sheer, unmerited, infinite, condescending, mercy-ridden, grace.
The 5th element was a turban on his head, with a golden metal plate inscribed with the words "Holy to the LORD."  This signified that Israel's High Priest bore all the annual national debt and made atonement before the LORD by sacrifices offered in blood.
Magnetic Mediator
Can you see the sparkling sight that set the Aaronic High Priest apart as Israel's substitute to bring the whole Church into the very presence of the LORD? White linen to set Him apart as a representative High Priest for man to God? Royal blue, purple and scarlet to represent God to man? The message is striking but clear: Israel meets God in its Personal Mediator at Huge Expense!
When we see the breathtaking sight on which Israel set their hopes we can grasp a little better why the Orthodox and Catholics love their priests: the tragedy is that neither the vestments that they wear nor the office that they hold is able, in any way, to bring their congregants before God - Calvary placed a moratorium on that. Yet, before we despise those who pervert clear Gospel truth by fabricating a new cast of sacerdotal priest, is it not a far greater wonder (indeed a crying shame and reproach to us) that we His sheep have so little ardent love for Lamb of God who suffered our Curse on the Cross?
Priestly Limitations
Yet from another angle, as a sinful mortal, Aaron could only do so much - his sell-by-date atonement expired each year at Yom Kippur, and had to be renewed by a endless annual rite: what was required was an ultimate sinless scapegoat.
It is true Christ's washing power came to those who looked beyond Aaron, in faith, to the coming Messiah who would institute a better order of atoning, substitutionary, representative, mediatorial, Priest.
In the final analysis, Aaron was really a nagging reminder to sinners that what was required was a permanent, priestly, order which, at Calvary, became finally-, and fully-, operational in Jesus, the Mediator of the Elect.
Dim-Sighted Faith
I wonder when was the last occasion you can recall, when a spiritual vision of Christ, while reading the Scripture, attending to the sermon, or celebrating communion, so bedazzled your heart that it took your breath away and made you fall down on your knees or raise up songs to God? Is that not what we should expect from prayerful, prepared, enjoyment of God's appointed means of grace?
It is hard to imagine that the writer to the Hebrews was cold, indifferent, or "matter-of-fact", when he describes the Lord Jesus Christ - it is with glowing worship he depicts the Eternal Son of God, who took human flesh to Himself, to put our guilt to death: He is the God-appointed, Spirit-anointed, never-dying, ever-living, always interposing-interceding, Great High Priest!
Was he not spiritually raptured when the person, work and office was captured in one of the most wonderful, succinct, statements of Jesus's expensive work as the representative of the saints?
23 The former priests were many in number, because they were prevented by death from continuing in office, 24 but he holds his priesthood permanently, because he continues forever. 25 Consequently, he is able to save to the uttermost those who draw near to God through him, since he always lives to make intercession for them. 26 For it was indeed fitting that we should have such a high priest, holy, innocent, unstained, separated from sinners, and exalted above the heavens. 27 He has no need, like those high priests, to offer sacrifices daily, first for his own sins and then for those of the people, since he did this once for all when he offered up himself. 28 For the law appoints men in their weakness as high priests, but the word of the oath, which came later than the law, appoints a Son who has been made perfect forever. - Hebrews 7:23
Penitent Prayer?
If you are a believer, kneel on your floor and join me in this prayer... Father forgive me for being so blind to the loveliness, excellence and holiness of your Son - the Mediator of the Church - whom you have provided to take away all my guilt, and pour out covenant blessings purchased at the infinite price of His death. That you, my God, before the world began, set me on the head, heart and shoulders of the your Christ your spotless Lamb. I know, just like the sons of Israel, I desperately need your grace - be merciful to me as a sinful saint and pour out your Spirit to confirm me to your Son. I praise you with all my heart that my Great High Priest was cast into eternal Hell that you might bring me and all my brothers to everlasting, glorious, life. Remove all the deadness and coldness I have in my heart towards the beautiful, glorious, Person and Work and Offices of Jesus my Lord - draw my heart after your Beloved in whom I am blessed - grant me grace to love Him more in an ever-deepening admiration and allegiance to Him who loved me and gave Himself for me. Lord Jesus Christ, I bless you because you are beautiful, glorious and merciful to me!